著名的 Logitech 皇牌電競滑鼠 G604,今天限時大降價,提供高達 45 折優惠!這款滑鼠以雙無線設計,除了可 Bluetooth 更可用 LIGHTSPEED 方式連線,反應高達 1mms。它使用 Hero 25K 感應器,反應快,精確度高。提供兩段式 Scroll 的速度,超快模式中能夠幫助 Programmer 更易控制長的編碼編輯。電力方面,只需 1 顆 AA電就能用 240 小時(LIGHTSPEED Mode),如用 Bluetooth 更可用 5 個月之久!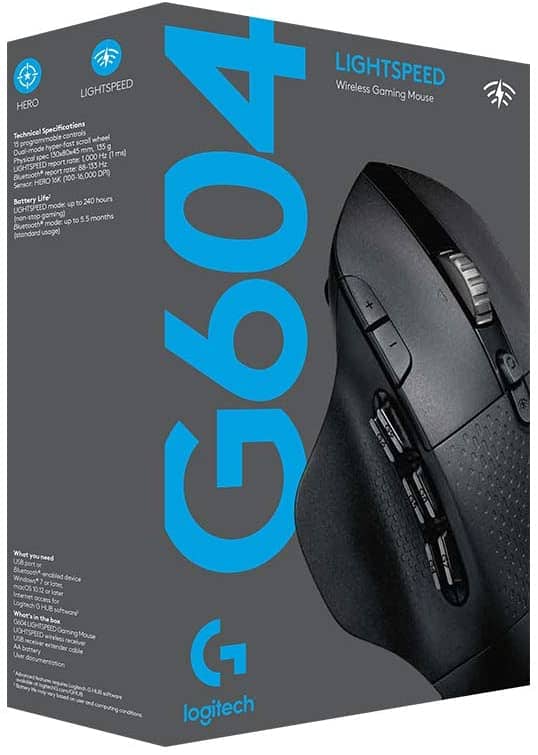 產品名稱:Logitech 604
香港參考售價:HK$799

美版售價:US$44.99

送貨方式:集運
Logitech G604 LIGHTSPEED Gaming Mouse with 15 programmable controls, up to 240 hour battery life, dual wireless connectivity modes, hyper-fast scroll wheel - Black
15 programmable controls: include 6 thumb buttons; fully programmable with G hub software
DUAL CONNECTIVITY: Toggle between convenient Bluetooth and ultra fast 1 mms LIGHTSPEED advanced wireless technology. Bluetooth report rate: 88 133 Hz (7.5 11.25 ms)
Hero 25K sensor through a software update from G HUB, this upgrade is free to all players: Our most advanced, with 1:1 tracking, 400-plus ips, and 100 - 25,600 max dpi sensitivity plus zero smoothing, filtering, or acceleration
DUAL MODE HYPERFAST SCROLL WHEEL: Durable metal scroll wheel switches between hyper fast and ratchetted scrolling; Programmable scrolling lets you apply key binds
240 HOURS WITH 1 AA: efficient HERO 16K allows for 240 hours in LIGHTSPEED mode or up to 5; 5 months in Bluetooth mode
值得一提,Logitech 更新的 G703 及 G903 同樣降價!性能更強更出色!不要錯過!
特價
Logitech G703 Lightspeed Wireless Gaming Mouse W/Hero 25K Sensor, PowerPlay Compatible, Lightsync RGB, Lightweight 95G+10G Optional, 100-25, 600 DPI, Rubber Side Grips - Black
Best Selling Wireless Gaming Gear Brand - Based on independent sales data (Oct '18 - Oct'19) of Wireless Gaming Keyboard, Mice, and PC Headset in units from: US, CA, CN, JP, KR, TW, TH, IN, DE, FR, RY, UK, SE, TR
Power play wireless charging: never worry about your battery life again. Add the power play wireless charging system to keep G703 and other compatible g mice charged while at rest and at play. . .power play wireless charging system sold separately
Hero 25K sensor through a software update from G HUB, this upgrade is free to all players: our most advanced, with 1: 1 tracking, 400 plus IPS, and 100-25, 600 max DPI sensitivity — Plus zero smoothing, filtering, or acceleration, and 10x power efficiency of previous Gen
Light speed wireless: pro-level responsiveness and connectivity for long lasting, high performance game play — with a weight of 95 g and battery life for up to 35 hours of continuous play with default light Sync RGB lighting.
Supreme comfort and quality: brings together comfort, durability, and performance with comfortable design, rubber side grips, 10 g optional weight, and 6 programmable buttons for a customizable gaming experience.
特價
Logitech G903 LIGHTSPEED Wireless Gaming Mouse W/ Hero 25K Sensor, PowerPlay Compatible, 140+ Hour with Rechargeable Battery and Lightsync RGB, Ambidextrous, 107G+10G optional, 25,600 DPI, Black
Power play wireless charging: never worry about your battery life again. Add the power play wireless charging system to keep G903 and other compatible g mice charged while at rest and at play. Powerplay wireless charging system sold separately
Hero 25K sensor through a software update from G HUB, this upgrade is free to all players: Our most advanced, with 1:1 tracking, 400 plus ips, and 100 - 25,600 max dpi sensitivity plus zero smoothing, filtering, or acceleration
Light speed wireless: pro-grade 1 ms report rate, no cable drag, no compromises on weight or battery life; eSports professionals depend on lightspeed's responsiveness and reliable Connectivity
140 Hour lipo battery: super-efficient system design results in almost 6x the battery life of previous Gen; lasts for up to 140 hours with light Sync RGB lighting, and up to 180 hours without
雖然 Logitech 產品只售美國地區,想購買的朋友可透過集運(簡易港台教學)進行,一般約 7-10 天可送到。
數量有限,特價貨品一閃即逝。Amazon 價格會隨時改動,購前請留意折扣是否跟上文相同。